STANDARD

PCAP TOUCH SCREEN
Versatile projected capacitive touch screens for system integrators in standardized diagonals of 4.3'' up to 27'' . World class, glass-based PCAP technology with custom logo printing options and optical bonded display, if needed. Manufactured on high tech production lines in high-volume. Very low MOQ of only 10-50 pieces and lead times of only 3-7 weeks.
The active area, viewing area, tail, pinout, glass thickness and outer dimension are fixed and were chosen to meet the most famous Look & Feel requirements of vending applications and information terminals. The standardized and fixed values cause excellent price advantages, extreme low minimum order quantities and lead times which are only the half of what is common in the market.

Next to all these advantages we do not forget to keep customization options for you: With paying a very low NRE of only a few bucks you will have your own logo and graphic printing.

IT'S THAT EASY AND INEXPENSIVE
TO TURN YOUR APPLICATION INTO A HIGH QUALITY TOUCH DEVICE
Technology: 

projected capacitive (mutual capacitance sensing)


Diagonals:

4.3", 7", 10.1", 12.1", 15", 21.5", 27"

Input:

finger and thin gloves

Multitouch:

up to 10 simultaneous touch points

Surface:

chemically strengthened glass 1.1 - 1.8mm

Hardness: 

more than 6H

Frame:

black or white or custom design with logo printing

Display:

with pre-assembled display if needed

(gasket-, hermetic- or optical bonding)

Controller:

PCB or CoF

Interface:

I²C and/or USB (HID)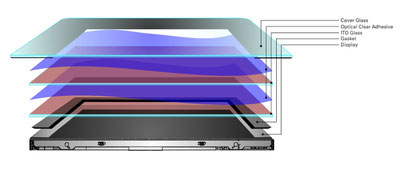 Size
P/N

Description


Active Area

[mm]


Drawing

4.3''


 67-F-PMC-43-001-x

4.3" Standard PCAP Module, I²C COF, 1.1mm Cover Glass, White or Black Frame, Display 480 x 272

96.87 x 55.63


7.0''

67-F-PMC-70-003-HD-x

7" Standard PCAP Module, 1.1mm Cover Glass, White or Black Frame, Display (HD) 1024 x 600

152.4 x 91.44

10.1''


 67-F-PMC-101-003-S-x

10.1" Standard PCAP Module, I²C COF, 1.1mm Cover Glass, White or Black Frame, Display 1024 x 600

 223.72 x 126.28

12.1''


 67-F-PMC-121-001-x

12.1" Standard PCAP Module, 1.1mm Cover Glass, White or Black Frame, Display 800 x 600

248.00 x 186.50

15.0''


 67-F-PMC-151-001-x

15.1" Standard PCAP Module, 1.1mm Cover Glass, White or Black Frame, Display 1024 x 768

305.00 x 229.10


 21.5''

89-F-PMC-215-002-x

 21.5" Standard PCAP, 1.1mm Cover Glass, White or Black Frame,

w/o Display



476.64 x 268.11

27.0''


 89-F-PMC-270-002-x

 27" Standard PCAP,  USB PCB, 1.8mm Cover Glass, White or Black Frame,

w/o Display

596.77 x 335.66

| | | |
| --- | --- | --- |
| 34-F-PMC-43-001 | VGA Board for 4.3" PCAP Module | coming soon |
| 34-F-PMC-70-001 | VGA Board for 7" PCAP Module | coming soon |
| 34-F-PMC-101-001 | VGA Board for 10.1" PCAP Module | coming soon |
| 34-F-PMC-121-001 | VGA Board for 12.1" PCAP Module | coming soon |
| 34-F-PMC-151-001 | VGA Board for 15.1" PCAP Module | coming soon |